QUITTING TOBACCO FOR REAL ISN'T EASY. BUT IT'S WORTH IT.
Quitting is different for everyone. That's why we offer a variety of options, all free of cost. Get counseling, get patches and gum, or find tools to quit on your own.
STEP ONE: WHAT'S YOUR REASON TO QUIT?
Reasons to Quit Smoking (CDC)
Everyone has their own reasons for quitting smoking. Quitting smoking has many benefits. This is true no matter how old you are or how long or how much you have smoked. Download this PDF to help you think through your reasons for quitting.
Get the facts about what happens when you quit smoking.
STEP THREE: GET HELP FROM AN APP, WEBSITE OR
TEXT PROGRAM
Chat online 24/7 with a National Cancer Institute counselor. Get quitting information, tips, ongoing support, and expert advice on staying tobacco-free in the future.
Oregon Quitline Text2Quit: Text "READY" to 34191 to receive texts to your phone that can help you quit tobacco for good. Must be 18 or older.
Smokefree.gov: Visit Smokefree.gov to find a variety of text-based programs that support people who are pregnant, veterans, teens, and more. You will receive daily text messages of encouragement, advice, and tips for becoming smoke-free and tobacco-free and living healthier.
quitSTART: The quitSTART app is a free smartphone app that helps you quit smoking with tailored tips, inspiration, and challenges. The app helps you prepare for becoming smokefree, monitor your progress, get back on track if you slip up, manage cravings, and store helpful tips. Available for download on Apple Store or Google Play.
QuitGuide: The QuitGuide app helps you understand your smoking patterns and build the skills needed to become and stay smoke-free. Use the app to track your cravings by time of day and location, and get motivational messages for each craving you track. Get tips for dealing with cravings and monitor your progress toward achieving smoke-free milestones. Available for download on Apple Store or Google Play. 
Smokefree.gov: Free information and professional help from the National Cancer Institute for people trying to quit smoking and dipping.
BeTobaccoFree.gov: Free information and tools for quitting from the U.S. Department of Health and Human Services.
BecomeAnEx.org: A free, digital quit-smoking plan and online community that helps people develop the skills to successfully quit.
CDC: Smoking and Tobacco Use: This site from the Center for Disease Control & Prevention (CDC) provides quitting advice, the latest research and news on tobacco use, publications to order, and helpful resources. This site is also available in Spanish.
Smokeless Tobacco Products (Mayo Clinic)
Quitting Smokeless Tobacco (University of Michigan Rogel Cancer Center)
STEP FOUR: HELP TO QUIT, JUST FOR YOU
Help to Quit During Pregnancy
Lane County: Quit Tobacco in Pregnancy (QTiP) Program
The Quit Tobacco in Pregnancy (QTiP) program helps people in Lane County who are pregnant and want to quit smoking. It is an incentive program that offers coaching and gifts just for participating. Those who successfully quit smoking can earn up to $250 in gift cards. Call 541-682-4440 or click here for more information.
Smokefree.gov: Quitting While Pregnant
Smoking during pregnancy is harmful to you and your baby. Quitting at any time during your pregnancy—especially in the early stages—is one of the best things you can do for your baby's health. Get the facts about smoking and pregnancy and learn how to become, and stay, smoke-free for you and your baby. Click here for more information.
CDC: Pregnancy and Tobacco Cessation Resources
Learn steps to take to quit smoking before, during, and after pregnancy. Click here for more information.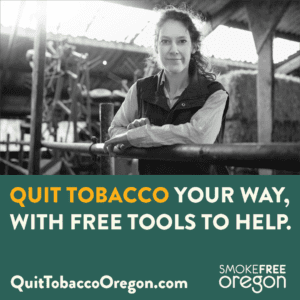 National LGBT Cancer Network: Outlast Tobacco
Click here to find supportive tools from the National LGBT Cancer Network to help you take the first step to quitting smoking.
STEP FIVE: CONSIDER FREE MEDICATIONS, LIKE PATCHES OR GUM
Medications and Counseling to Help you Quit
Quit smoking medications can help you manage withdrawal symptoms and cravings, which helps you stay confident and motivated to quit. Click here to learn about the different options.
Find Medications to Help You Quit at Your Local Pharmacy
Select pharmacies across Oregon are now offering products to help you quit tobacco for good, right at the pharmacy window. Most health insurance plans cover free medication, like patches and gum.
Click here to find a pharmacy near you.
Talk with Your Health Care Provider
Working with a health care provider–such as your doctor, dentist, or pharmacist–can increase your chances of quitting tobacco for good. Getting advice and assistance from a doctor more than doubles the odds that a person who smokes will quit successfully.
Your health care provider can help you make a quit plan that will work best for you. They can refer you to counseling, such as the Oregon Quit Line, prescribe nicotine replacement therapy (NRT), such as patches and gum, and prescribe other medications to help you quit tobacco.
Health insurance plans, including Oregon Health Plan, cover medications like patches and gum for free with a prescription. Find a pharmacy near you.
Visit www.lung.org for an overview of the smoking cessation treatments that health insurance plans are required to cover. This does not guarantee coverage for certain treatments in any insurance plan. Patients should check with their health insurance plan to confirm what is covered.
Learn more about how to start a conversation with your doctor about quitting.